Hybrid NVR IP+Analog Architecture
Genius Vision Hybrid NVR is a separate package that shares the same function sets with Genius Vision All-In-One VMS, but added the capability of connecting legacy analog video sources. Following are some highlight features of hybrid NVR:
16-channel audio/video real-time (30 for NTSC, 25 for PAL) H.264 hardware compression capture card (NH267-16)
D1 (704*576) real-time for both live preview and recording up to 64-channels (4 cards) per server.
Support dual streaming.
Low CPU usage, suitable for additional IP camera installation.
Support industry standard PCI-Express(x1) port.

Hybrid 64-bit Edition is also available separately.
NH267-16 Product Specification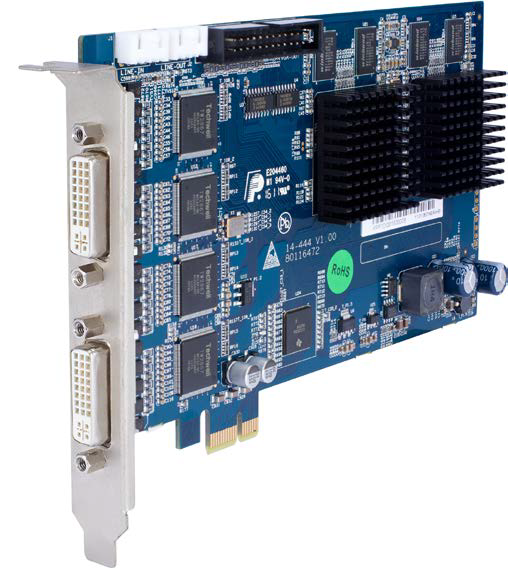 Technical Specification
PCI-E
PCI-Ex1 2.0 compliant
Dimensions(mm)
175 ×106.6
Power consumption
12W
Video compression
H.264, NTSC/PAL
Number of video input
16
Video input connector
BNC(1.0Vp 1.0Vp,75Ω)
Preview resolution
D1 (704x480 for NTSC, 704x576 for PAL)
Recording resolution
CIF/D1
Encoding FPS per channel
1~25 PAL, 1~30 NTSC
Encoding FPS per card
D1 16-channels max 480 FPS per card for NTSC, 400 FPS for PAL
Dual Encoding FPS
D1+CIF 16-channels max 480+480 FPS per card for NTSC, 400+400 FPS for PAL
Audio compression
G.711A
Number of audio input
16
Audio input connector
BNC(2.0Vp 2.0Vp 2.0Vp-p,1000Ω ,audio volume control range 83DB)
Audio sampling rate
8kHZ
Features
Audio and video hardware compression card, using advanced standard H.264 video compression algorithm to achieve excellent image quality and high compression ratio.
Support up to full D1 realtime live view
16 channel full D1 video real-time (total 480 FPS for NTSC, 400 FPS for PAL) compression and dual-stream.
Support maximum dual stream D1+CIF for all 16 channels, both in real-time hardware compression, providing total 480+480 FPS for NTSC, 400+400 FPS for PAL.
16 channel G.711 audio compression.
Support motion detection and video loss function; support OSD, text overlay, video frame rate, frame rate dynamic setup and etc
Standard PCI PCI-E 1X slot.
System Requirements
Does the software connects to DVR or analog cameras?
Our software only connects to supported IP cameras and Genius Vision NVR. We do not support other kinds of DVRs or NVRs.
For analog video sources, we offer hybrid option using our state-of-the-art 16-channel real-time audio/video H.264 hardware compression capture card. Please refer to sections above.
Can I get price information about hybrid capture card?
If you are interested in Hybrid capture card, we require you to fill out sales inquiry form. Please be advised Hybrid capture card is available only to security professionals, not for home users.